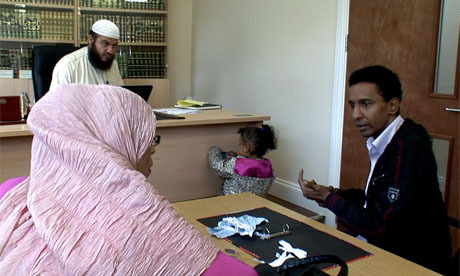 Shari'a council member Sheikh Haitham al-Haddad mediates between a couple considering dissolving their Islamic marriage. Photograph: Mona Mahmood for the Guardian Photograph: Mona Mahmood/guardian.co.uk
The new scheme will be run by the Institute of Family Law Arbitrators, a joint venture by family lawyers' groups and the Chartered Institute of Arbitrators. It will enable couples to resolve family disputes out of court by appointing an experienced family lawyer specially trained to arbitrate under the scheme.
Although they will not be able actually to obtain a divorce this way, or to argue about where children live and who has contact, the scheme will allow couples to resolve financial issues arising from a divorce either here or abroad, and will cover some inheritance claims. One of those involved, Timothy Scott QC, has suggested family arbitration rulings will be "final and binding" under the Arbitration Act 1996 – although depending what the case is about, it may be necessary to apply first to a court to have the arbitrator's ruling confirmed.
It may be a propitious time for this launch, as legal aid in divorce faces the axe. But this is quite a surprising legal turnaround. Lawyers used to think binding arbitration could not lawfully be used in family disputes: Jack Straw said when he was minister of justice in 2008 that "arbitration is not a system of dispute resolution that may be used in family cases", and even one of the founders of the arbitration scheme, the solicitor David Hodson, has in the past called for legislation so as to permit it.
So how can lawyers now just produce this scheme out of a hat? What's changed to make it legal? Perhaps the 2010 supreme court judgment in Radmacher v Granatino, giving legal effect to pre-nuptial agreements, is a factor.
But whatever's prompted this, it's not legislation. The IFLA's scheme is not underpinned by statute: it seems to be an entirely private initiative. There's nothing sinister about that, and I don't criticise the scheme or its founders. What is a matter for concern, though, is what their move implies about the potential within our law for a shadow system of family justice to develop.
If family lawyers can just decide to set up a scheme like this and expect to make arbitration awards binding, why can't others set up their own schemes? What's to stop a religious body doing so, and deciding cases according to religious principles, such as sharia? The Muslim Arbitration Tribunal already says it decides commercial disputes according to "Islamic Sacred Law". Why can't bodies like it now make divorce settlements, and hope to see their awards enforced? I doubt the Archbishop of Canterbury or Lord Phillips, the current president of the supreme court, would be alarmed at the prospect. Those of us concerned about religious threats to equality under the law may feel differently.
Under the Arbitration Act a judge can refuse to enforce an award if it's contrary to public policy and causes substantial injustice. This might provide some safeguard against religious rulings clearly based on discriminatory principles. But few women will have the resources to mount a court challenge to a ruling they may be told is binding. We need more.
If family arbitration is to be accepted there must be clarity from those involved and from government, and reassurance about its legal constraints. What, if any, areas of family law remain incapable of arbitration? In what circumstances must an agreement be approved by a court? And how can we ensure anyone offering family arbitration does so fairly and without discrimination? Only parliament can give real answers.
By Carl Gardner @ The Guardian
(http://www.guardian.co.uk/law/2012/feb/23/is-family-arbitration-legal)
Related